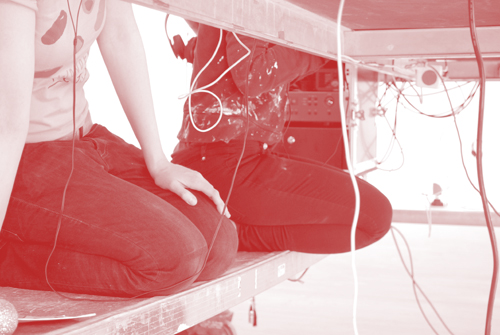 ... are an open radio collective of activists, amateurs, poets, queers, artists, intellectuals, musicians, craftsmen and human beings from different places in Europe. We are protectors of the fragile and the things that affects us.
We want to bring fresh air into the art institution, the radio medium and the local community

Most of us have an idea that the world could be better than it is. We all know that the world today is different than the one we experienced yesterday, and that things are in constant change. We all try to lead our lives the way we believe is best and we sometimes fail - and that's fine.

We are not representing one political movement or organization, we are not going to pretend that we are one unity. We might be from more or less the same generation, but we were formed by individual experiences and different political and social contexts.
Most of us knows each other, some really well, some not. We won't claim to be professional artists, radio producers or anything else. We also can't tell you what will happen on air, because we simply don't know yet.

What we can assure you is that we will do radio that we find important. We will transmit exactly what we think should be transmitted, in a way that we want to do it. We all have something that we wish to express, and we will do it as good as we can.
_____________________________________________________________________
ARTIST PARTICIPATING:
Andrew Schütt, Johanna Wölfing, Sascha, Sophie Domenz, Julia Bonn, Till Wolfer, Søren Krag Nielsen, Pelle, Ragnhild May, Cilla Leitao, Safari Duo, Louise Haugaard, Stefan Bakmand Andersen, Kim Sandra Rask, Signe Bøggild, Sara Willemoes Thomsen, Jaani Reismann og Louise Vind Nielsen +

_____________________________________________________________________